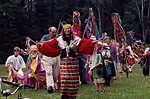 For over twenty years Linda Donald has romped through the downtown theater scene as "the Darling of Off-Off Broadway " (Time Out Magazine), and appeared in more than one hundred productions. Focusing on work that is rich in originality and creatively eclectic, she has appeared on radio, television (PBS's The Fight to be Remembered and I Stand Here Ironing), in independent films (Mocking the Cosmos with Tim Roth), publications (Stroll Magazine and The Village Voice) and has performed in venues as diverse as a medieval castle, subway cars, unemployment lines, Lincoln Center, homeless shelters, municipal parks, supermarkets, the fabulous streets of London and New York and, of course, stages both large and teeny-tiny.
Linda created Art Cart, a portable performance space, and the Poetry Vending Machine, with which she dispenses poems.
Founder of The Spring Street Feet Company and The Little Italy Pranksters, she has directed, designed, and produced for these companies.
Most recently, Linda wrote and performed her one-woman shows, Everything You Wanted to Know about Sects; Seven Deadly Sins; Art or Obscenity?; Eve's Ribs; O, Santa, Why Hast Thou Forsaken Me?; and Mrs Noah's Diary.
She is the official "Mistress of Mirth" at Artwell Gallery and Community Art Center, whose motto, "Art for All," beautifully embodies her own philosophy.
In the summer of 2004, Linda co-taught Physical Comedy, Clowning, and Comic Improvisation for Dancers and Actors with Run For Your Life!'s Artistic Director Dudley Brooks.