Run For Your Life!'s
diminutive stars
Marianne Humainette and
George "Stumpy" Spelvin
will perform on
College of Marin's
From the Source Spring Dance Concert
Fridays and Saturdays
April 4, 5, 11, and 12 at 8:00 pm
College of Marin, Kentfield
(driving directions)
Tickets: $10 student, $15 adult
Box Office (415) 485-9385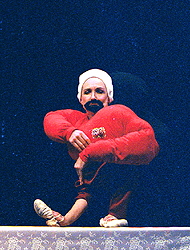 Moonlight, sweet perfume on the breeze, the passionate strains of a waltz, and sheer idiocy. Soaring flights (literally) of ecstasy, unparalleled technical virtuosity, and

pratfalls.
"Anybody can dance" is a maxim of the modern dance world. This ballet proves that any body can dance.


Petite prima ballerina assoluta Marianne Humainette and diminutive danseur noble George "Stumpy" Spelvin interpret Nocturne in A-Flat Major from Les Sillyphides, a homage to the classical romantic ballet, Jean Coralli, Jules Perrot, Chuck Jones, Marius Petipa, Michel Fokine, Tex Avery, Vaslav

Nijinsky, and Wile E. Coyote.
(Marianne and George also performed April 1 on the PuppetLOVE! 2003 Festival.)

In their short careers, George "Stumpy" Spelvin and Marianne Humainette have triumphed in many roles befitting their stature. Marianne was guest artist in Dance of the Tumblers for City Summer Opera's 1999 production of the Kurt Weill / Ira Gershwin musical Lady in the Dark. George premiered the Valse in C# Minor from Les Sillyphides. George achieved one step for a small man, one grand jeté for

mankind, in 2001: A Space Oddity, at the Dance-Along Nutcracker in 2000. As well as being regular cast members of Run For Your Life!...it's a dance company!, they have been guest artists with Peninsula Ballet Theater. Maybe one day they will choreograph and perform Mozart's Les Petits Riens.